TIMELESS BEAUTY EXISTS IN SIMPLICITY
ESSENTIALS ONLY: LIVING WITH LESS IN MINIMALIST HOMES
Just because we can live with the bare essentials, doesn't mean that we can't be classy about it.
How many of us are actually able to adapt and accept the idea of living with only the bare essentials?
To us, one of the biggest pleasures about having a private space to come home to is being able to surround ourselves with things (and people!) we love. From books to music to paintings, craftworks and action figures, passionate collectors are even willing to go so far as to prioritise their expenses around their prized collection and dedicate a special room at home to keep them with close.
If you are the type of person who is willing to lead a simple lifestyle in efforts to compromise with your collector's habits, read on to find out how a minimalist interior design can style your home with timeless elegance in the most basic of ways.
Would you say it's the lack of colour or decors that make a minimalist living space? For us, it's a bit of both.
Project by @arche_interior | KompacTop as Kitchen Countertop l K1.04 Cloud Grey | Plains Kollection
Colour Tip: Stick with a monochromatic palette for the majority of the space to create a neutral background canvas for selected coloured accents.
While this interior theme is generally applied to make small spaces appear bigger, its simple aesthetics almost never go out of style when it's applied well.
Similar to how a Scandanavian palette works with a variety of whites, beiges and greys, a minimalist palette depends greatly on colour contrast to create visual
interest in an otherwise decor-free space.
If you're into the classic black-and-white theme, consider a series of grey, gold or silver to complete your basic palette before deciding on a coloured accent for a burst of colour. Green to replace potted plants? Blue to remind you of clear skies and coastlines?
The possibilities are endless.
Take a look at the moodboard below to inspire your day. While the basic concept of a minimalist palette may seem boring at first with the limited use of colours, you'll be surprised by how comfortable it can look when the room is gradually being put together.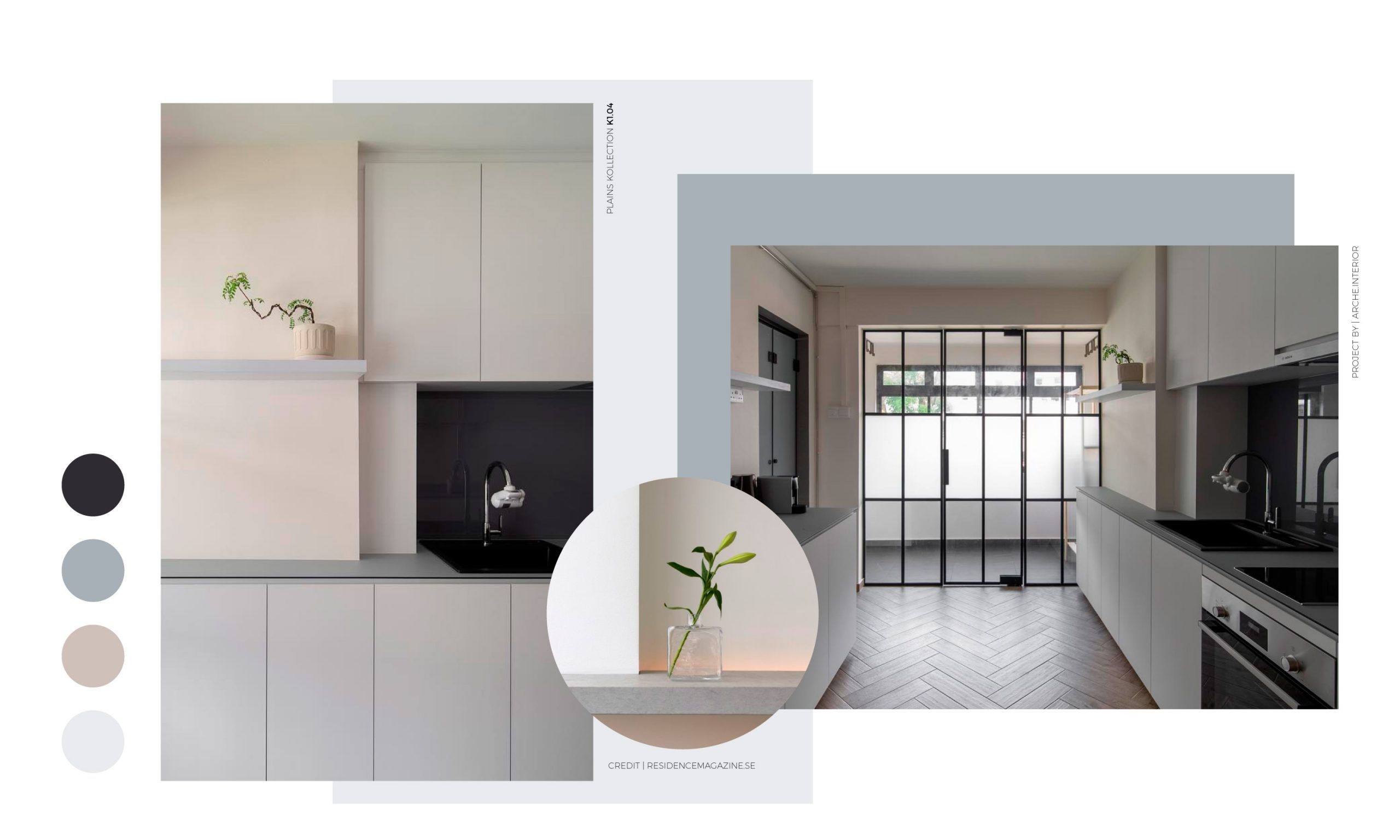 While these may seem like the standard solid colour palette, our Plains Kollection with exclusive standard matte finishing are guaranteed to stand out and impress.
Our solid colour offerings are custom-matched with standard matte and ultra-matte finishings.
Style Tip: Stay away from complicated patterns and bring only the things you need (and use!) to fill up the space.
Where quantity matters, don't be afraid to spend a little more and invest in quality. Instead of following market trends, take time and make the effort to find out how it suits you. How easy is it to maintain for years to come? Does it bring convenience to your lifestyle?
Unless you don't mind dealing with frequent replacements, look beyond the price tags to make your decisions based on material use and sustainability. Although the standard minimalist interior is characterised by industrial elements such as steel and chrome in furniture and fixtures, there's no reason not to bring home the perfect wood or rattan-made decors for an added homey touch.
While your living space should still reflect largely on your lifestyle needs, this interior theme actually celebrates the basic architectural elements by keeping it in its original forms as much as possible. This means no unnecessary altercations. If the existing kitchen space is enough to support our cooking needs, we don't need to purposely to maximise space by building extra cabinets and/island top.
In terms of aesthetics, feel free to bring in interesting textures but don't stray too far away from your selected palette to keep the interior look light and fuss-free. We're not saying you can't buy more than one accessory in this lifetime – if you have the proper space to store your 'plan B' purchases, make it a routine to swap different pieces out every few months instead of placing it all out in the open to maintain a proper ratio of white space to colour.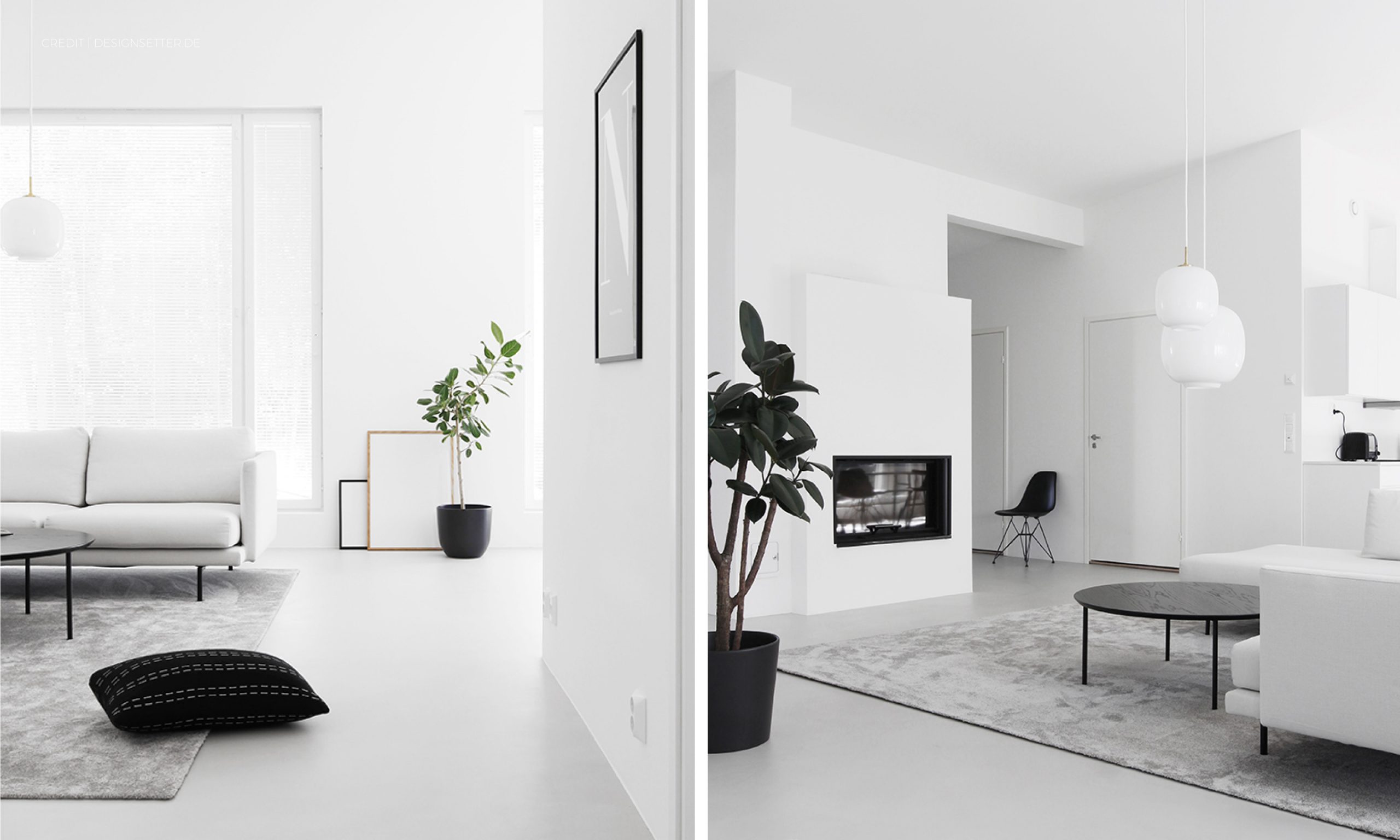 To maintain this concept's cohesive look, try to stay as close as possible to your chosen colour palette. Go for circles or round curves instead of angles for a touch of softness.
Source: designsetter.de
Key Takeaway: A minimalist space is ultimately clutter-free.
Of all the interior styles available, the minimalist theme is the one that require most self-control to maintain because more than just a matter or affordability, everything needs a place and reason to stay.
As easy as it can be to make room for new loves, we need to ask ourselves hard questions to save our space from preventable clutter.
"Where can we put this?"
"Why do we need this?"
"Is this new addition our missing centrepiece, or will it eventually turn into clutter that takes up your drawer space?"
"Do we really need another set of dining wares when we already have five, and hardly have anyone over?"
From a different perspective, what this theme offers is a basic setting to enjoy life's pleasures in the most carefree way. Although we may be satisfied with living with the bare minimum, it doesn't mean that we have to embrace it without a little class and modern elegance.
What colours would you use to create a minimalist palette for your kitchen space?
With two matte finishings to choose from, our Plains Kollection offers 10 assorted colours that can act as both the main or supporting elements in your minimalist themed space.
Start your new interior chapter with us by browsing through our full Kollection here.
For colour recommendations, reach out to us at 6842-0335 or write in to [email protected]. More inspiring references on how your space can turn out with KompacPlus can be found on Facebook, Instagram and Pinterest!
By kompacplussg
September 2, 2021
Subscribe to The K List today
Drop us your email in the space below, and we'll keep you informed about our adventures
and new discoveries!