Bring nature home in subtle ways
STYLE TIP: SIMPLY SCANDINAVIAN
Make the most out of natural light with our signature woodgrain Kollection, available in 12 natural shades.
If simplicity and practical function is all you ask for in a living space, then the Scandinavian theme may be the perfect lifestyle setting for you.
With emphasis on the use of muted colours to maximise space and natural lighting, this interior theme is best suited for minimalists at heart who look forward to spending quality time at home – to be able to unwind in a stress-free environment without the worry of unexpected distractions.
We hope that this blog is helpful to you in understanding the key elements that make up a Scandi-themed home.
With a signature thickness of only 6mm, our wood-grained kitchen countertops are popular for their sleek yet practical aesthetics that can complement any interior space with ease.
Project by @lemonfridgestudio 
KompacTop as Kitchen Countertop l K2.06 Trieste Eucalipto | Woods Kollection
Colour Tip: Stick with a neutral palette that play well with natural lighting.
The last thing that anyone would expect when walking into a Scandi-themed home is to have your surrounding shouting for your attention in every direction.
As the Scandinavian theme originated from a country where the skies were often dark and grey, its colour palette is traditionally chosen to help interior spaces look brighter in a blend of textures and contrasts so that regardless of rain or shine, each room can stay cosy with comfort for days on end.
Of course, we don't mean to limit ourselves to just using whites and beige.
Embrace the appeal of aesthetic contrasts by considering neutral pinks, soft amber or any variety of grey-tinted blue, green, and brown to create a unique colour palette that's easy on the eyes at any time of the day.
Check out the mood board below of our Scandi-themed project for inspiration. Rest assured that even with a limited selection of pale colours, the clean lines that connect one colour to another are enough to create a calming ambience that soothes and welcomes.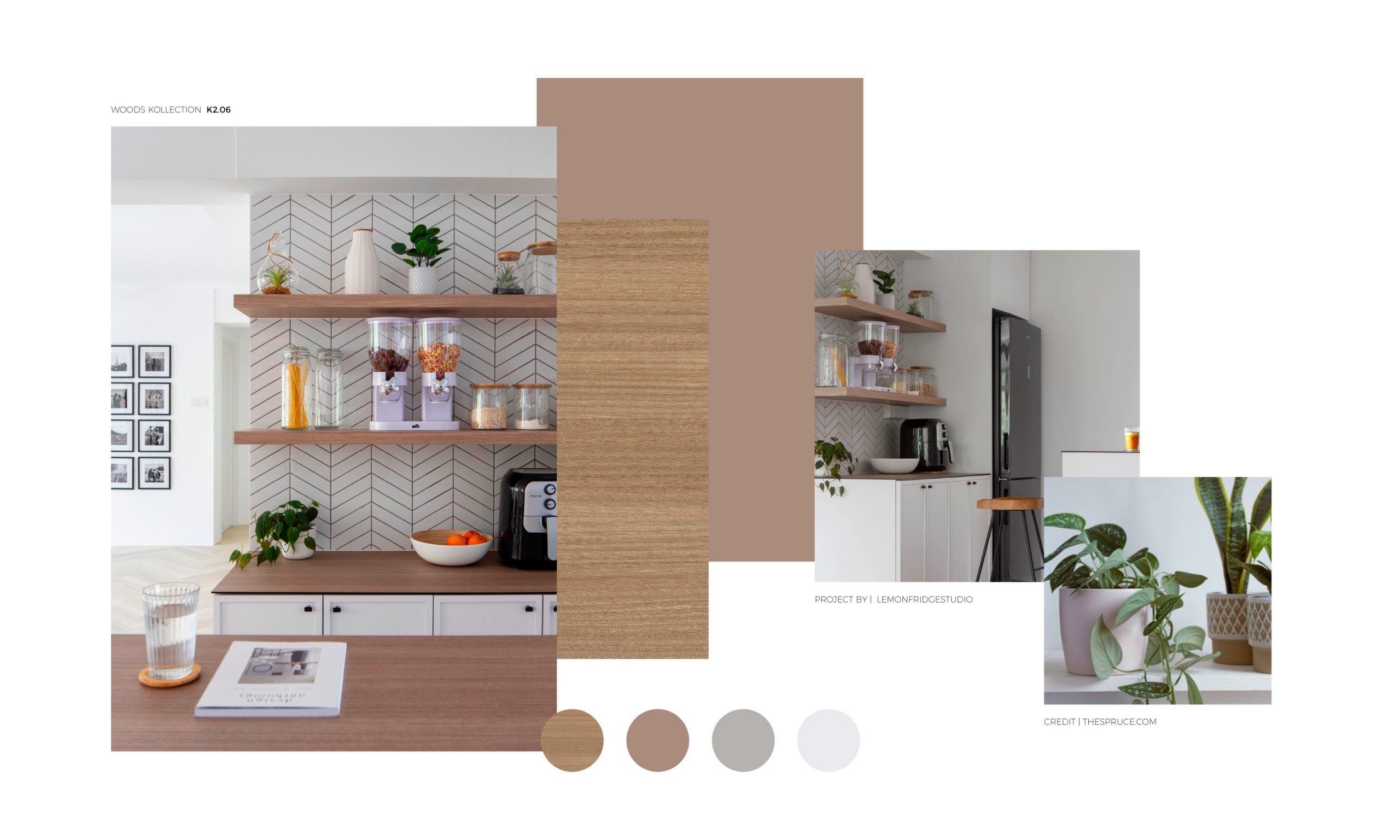 One thing's for sure, our KompacPanels will be sure to help you achieve the sleek, modern look with its signature 6mm thickness.
Style Tip: Let nature in with sleek lines and charming woodgrains.
Let's not forget that a big staple of this interior theme is the use of natural lighting to create an atmosphere that's light and airy, and because this is greatly subjective to the layout of your space, seek advice from your interior designer on the best ways to invite sunlight in.
Since the basic palette is mainly made up of solid colours, the trademark way of adding style to complete your Scandinavian home is by bringing in various elements of nature to make the space warm and inviting.
Starting with potted plants on table tops, this can also be achieved by picking out furniture and other accessories made from wood, metal and woven fabric (where applicable).
Bar stools like these are a great way to add colour to your simple interior palette. Notice how its wooden seat and sleek black frame stand out against its white surroundings?
Project by @lemonfridgestudio 
KompacTop as Kitchen Countertop | K2.06 Trieste Eucalipto | Woods Kollection
While there isn't a specific ratio to balance out the use of colours and its stylish counterparts, it is best to plan from the aspect of which elements you want as the aesthetic highlight in each room.
Where putting focus on using the same colour palette and material throughout the entire space can create a cohesive look, don't be afraid to show off your playful side by bringing fun shapes home as creative yet practical centrepieces.
Ranging from the giant bean bag in the living room to giant lamp stands and even rattan bookshelves, keeping to a specific design theme may not be as boring as you might expect it to be.
Opt for built-in to maximise space for everyday function. In this kitchen space, the sink top is seamlessly integrated with a sink cover in matching
woodgrain colours – providing extra countertop space for meal preps that is much appreciated by homecooks everywhere.
Project by @lemonfridgestudio 
KompacTop as Kitchen Countertop | K2.06 Trieste Eucalipto | Woods Kollection
Key Takeaway: Less is ALWAYS more.
Building on the concept of a minimalist interior space, always keep in mind that 'less is more' is the only concept that you need to guide you throughout this design process.
Much like how this theme is able to make the most out of a neutral palette, your Scandinavian home must be built to meet your practical needs first before pleasure.
Make it a habit to declutter your space on a regular basis so that table tops and workspace are ready for use whenever you need them.
Instead of getting all the latest tech and appliances, consider their features to only bring home what's practical for your lifestyle so that you can avoid turning your haven into another storage space for every little knick knack you can afford.
Think of it this way: the less you own, the less you clean, but the more time you have to appreciate the little things in life, like time with loved ones and quiet evenings with your favourite drink.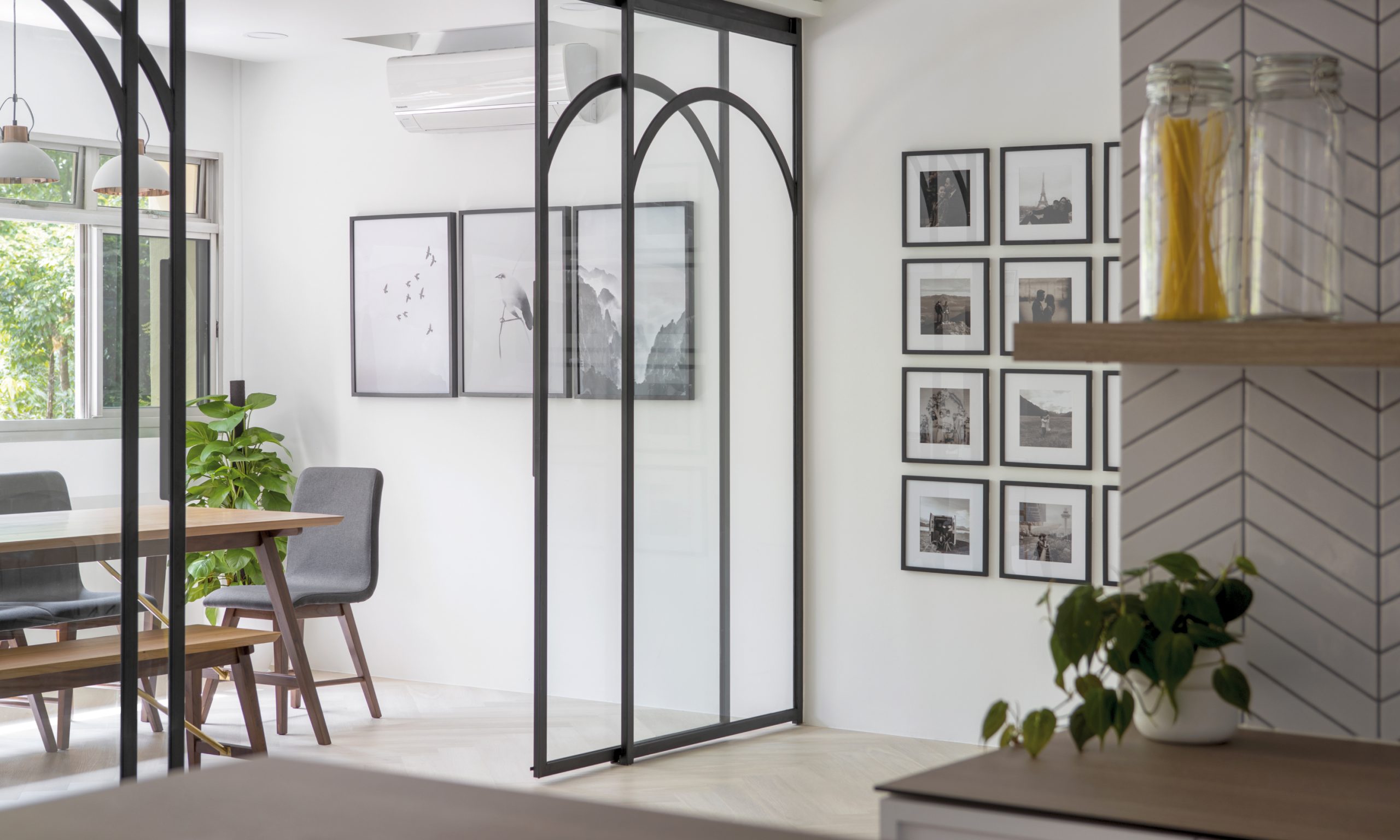 Embrace the beauty of simple living in Scandinavian homes, where your minimum needs for modern living is magnified to create a personal habitat that celebrates you.
Project by @lemonfridgestudio 
KompacTop as Kitchen Countertop | K2.06 Trieste Eucalipto | Woods Kollection
Would you consider white or black wood as alternatives to brown woodgrains to create natural warmth?
From driftwood white to charcoal black, our Woods Kollection offers assorted woodgrain colours with custom-matched matte finishing that are customisable as countertops, sink covers, custom furniture and more. 
Start your new interior chapter with us by browsing through our full Kollection here.
For colour recommendations, reach out to us at 6842-0335 or write in to [email protected]. More inspiring references on how your space can turn out with KompacPlus can be found on Facebook, Instagram and Pinterest! 
kompacplussg
September 9, 2021
Subscribe to The K List today
Drop us your email in the space below, and we'll keep you informed about our adventures
and new discoveries!