EMBRACING RAW IMPERFECTIONS
RUSTIC REVOLUTIONS: THE RUGGED SIDE OF MODERN LIVING
Bring rugged spaces back in style with textured woodgrains stones, metal and concrete from our Woods and Patterns Kollection.
What do you think expect to see when you hear "rustic homes"?
Do you picture yourself in front of a warm fireplace, or do you think of a well-aged and run-down environment where you will spend more effort chasing after repairs than actually living in it?
Although fireplaces are not specifically necessary in a typical Singaporean or Malaysian home layout due to our tropical climate, this does not mean that our efforts in creating a rustic living environment is lacking in any way.
At the very least, we want to assure you as surfacing specialists that despite the heavy use of raw natural materials as part of its aesthetic palette, there are still endless ways to preserve and let natural textures shine, and we hope that this blog can help you to find new appreciation for this organic theme.  
Notice how the concrete table matches well with the rattan lamp shade and wooden cabinetry in the background?
Project by @knockknock.studio 
KompacTop as Kitchen Countertop + KompacPlay Sink Cover with Dotted Design | K3.05 Matera Chiaro | Patterns Kollection
Colour Tip: Stick with a simple and earthy palette to create a neutral background to complement natural aesthetics.
Comparing then and now, one constant element of this theme is the aesthetic use of raw materials to frame the space.
In order to complement the rugged, natural beauty of raw materials, we recommend pairing it with layers of neutral whites (or black) to create a cosy setting with your preferred contrast balance.
Whether you aim for a weathered beach house theme with driftwood planks, or fancy a touch of modern chic with polished beams and stones, seek inspiration from your natural surroundings to bring home to expand your palette.
Check out the moodboard below for inspiration to get started with yours today. Don't forget to consider the size of the room to avoid making your space feel smaller than it already is!
Do you fancy spending your day surrounded by a lighter or darker palette?
Style Tip: Choose from a variety of woodgrains, stones, and metal to accentuate your palette.
For those who intend to create a cohesive look throughout the entire house, keep in mind that the essence of this design concept is built largely on the natural aesthetics of raw materials.
Where other contemporary themes may emphasise on clean lines and flawless surfaces to maximise space,, rustic themes promotes liveability that does not mind a little age in its furniture and decors.
In fact, it offers the perfect setting for antiques and hand-me-downs that indirectly doubles up the rustic charm.
If you are building from scratch, consider stripping your space down to expose brick walls or installing wooden beams in the ceiling space as some of the easiest ways to create the basic rustic frame.
With the right material choice, wide-planked wooden floorings are a great way to add to this aesthetic palette as well, which can be further topped off with textured fabrics as rugs or throws.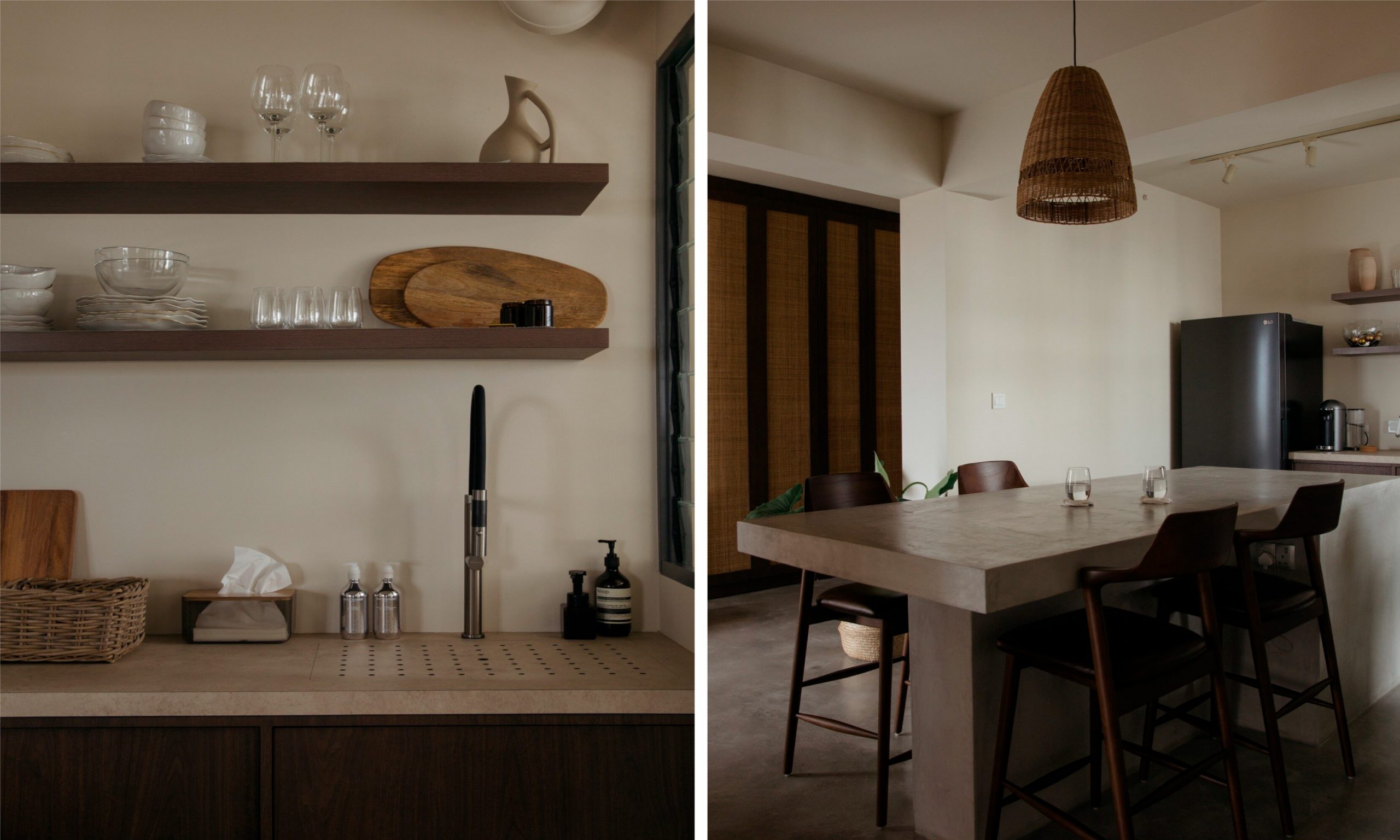 More than just choosing the right colours to build your rustic palette, finding ways to let natural textures stand out is just as important.
Project by @knockknock.studio 
KompacTop as Kitchen Countertop + KompacPlay Sink Cover with Dotted Design | K3.05 Matera Chiaro | Patterns Kollection
Key Takeaway: Stick with natural textures and avoid excess shine from metals and modern lighting.
In efforts to create a rustic environment, one key rule is to avoid contemporary elements like stainless steel and glass.
Because this design concept finds beauty in the raw imperfections of wood, stone and metals, don't be afraid to show them off by keeping them in sight as various tap or lighting fixtures as well as table wares.
To us, rustic homes are our favourite portrayal of a lived-in space, and while its cosy appeal is best enhanced by the use of warm lights and old metal fixtures, don't think that this vintage space cannot match up in terms of aesthetics or sustainability.
Compared to tiles and popular stones, repurposed wood and industrial metal wares are a lot more resilient than you think.
Check out these selected highlights of our Kollection to plan your rustic palette today.
If the red-orange hue of our Chiasso Rust l K3.06 is too bright for you, slide left to check out our Matera Chiaro | K3.05 and Verona Bronze | K3.07 as softer alternatives from our Patterns Kollection.
For those who are interested to create a country-themed getaway home in the city, our Woods Kollection offers a rich variety of woodgrains that serves aesthetic warmth and practical function on the same surface.
What colours would you use to create a rustic palette for your kitchen space?
Custom-matched with assorted textured finishings, our KompacPanels offer a practical yet aesthetic way to bring your favourite woodgrains, stones and metal shades home as easy-to-maintain countertops, furniture and more. 
Start your new interior chapter with us by browsing through our full Kollection here.
For colour recommendations, reach out to us at 6842-0335 or write in to [email protected]. More inspiring references on how your space can turn out with KompacPlus can be found on Facebook, Instagram and Pinterest! 
kompacplussg
September 23, 2021
Subscribe to The K List today
Drop us your email in the space below, and we'll keep you informed about our adventures
and new discoveries!