LET GOOD VIBES FLOW
INTERIOR OF THE MONTH: BRIDGING SPACE WITH CURVES
The subtle connection that joins and flows without end.
Everyone wants to feel welcomed when they walk into a room.
No, we're not talking about red carpets and applauses. We're talking about the mood. Whether it is to work, rest or socialise, the right ambience in a room is crucial to help people connect with their surroundings, stay focused, and keep conversations going.
With standard rooms being built in squares and rectangles, there's only so many ways we can rearrange our furniture to create the environment our lifestyle needs.
If colour paints warmth, we like to think that shapes and all design elements represent the tone and gestures that make our space ours, and in this blog, we want to help you discover and understand new interior possibilities with curves as an alternative to straight lines.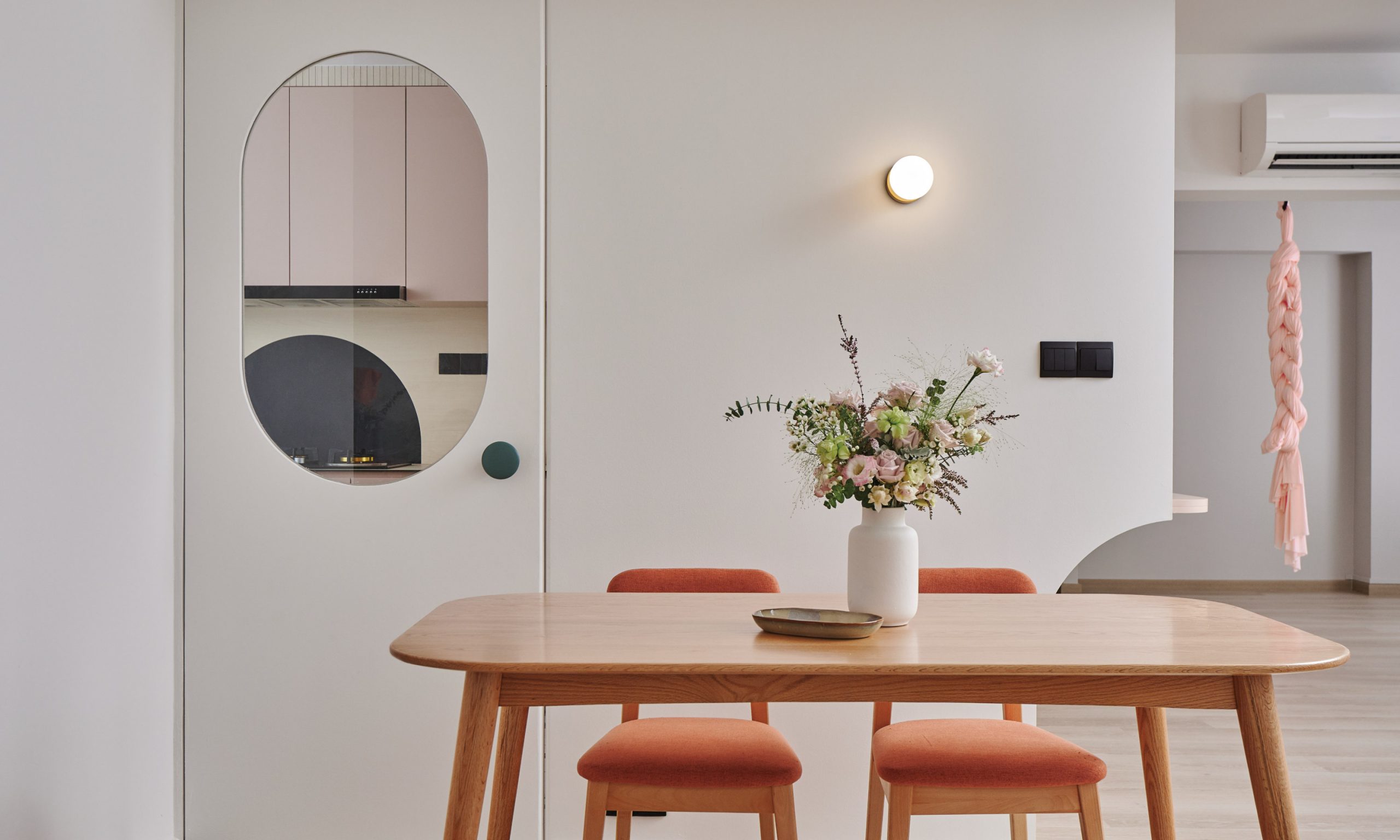 fortyfour5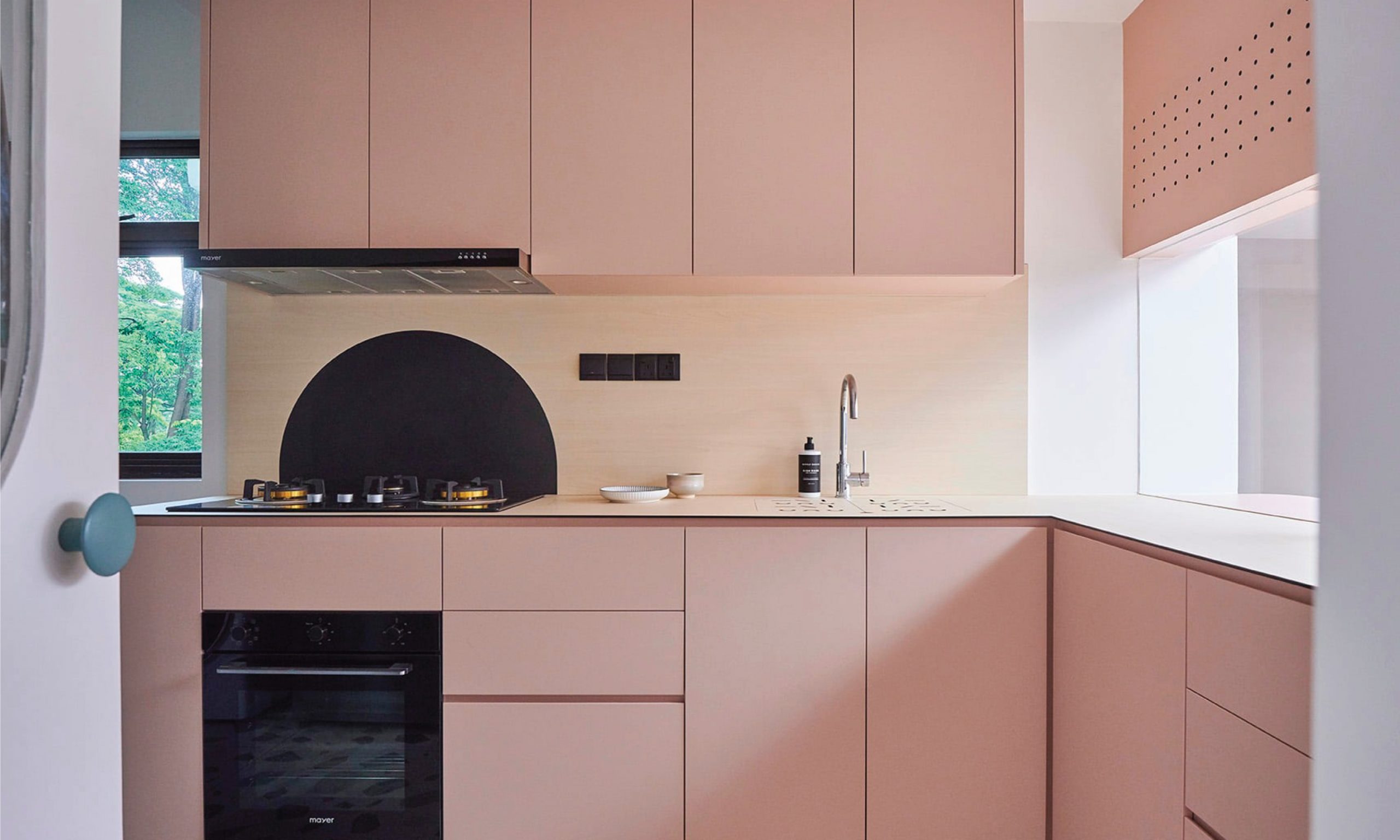 images-18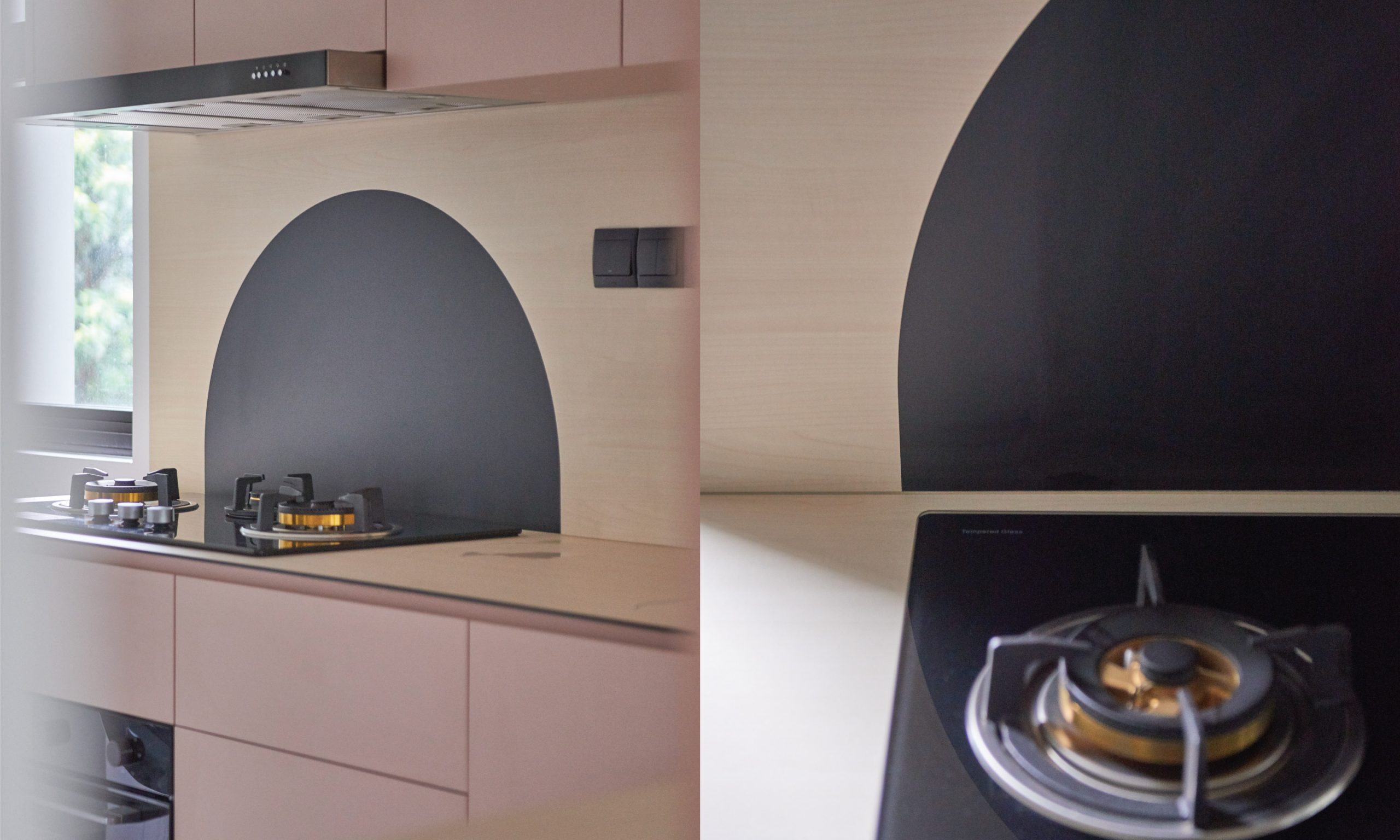 fortyfour2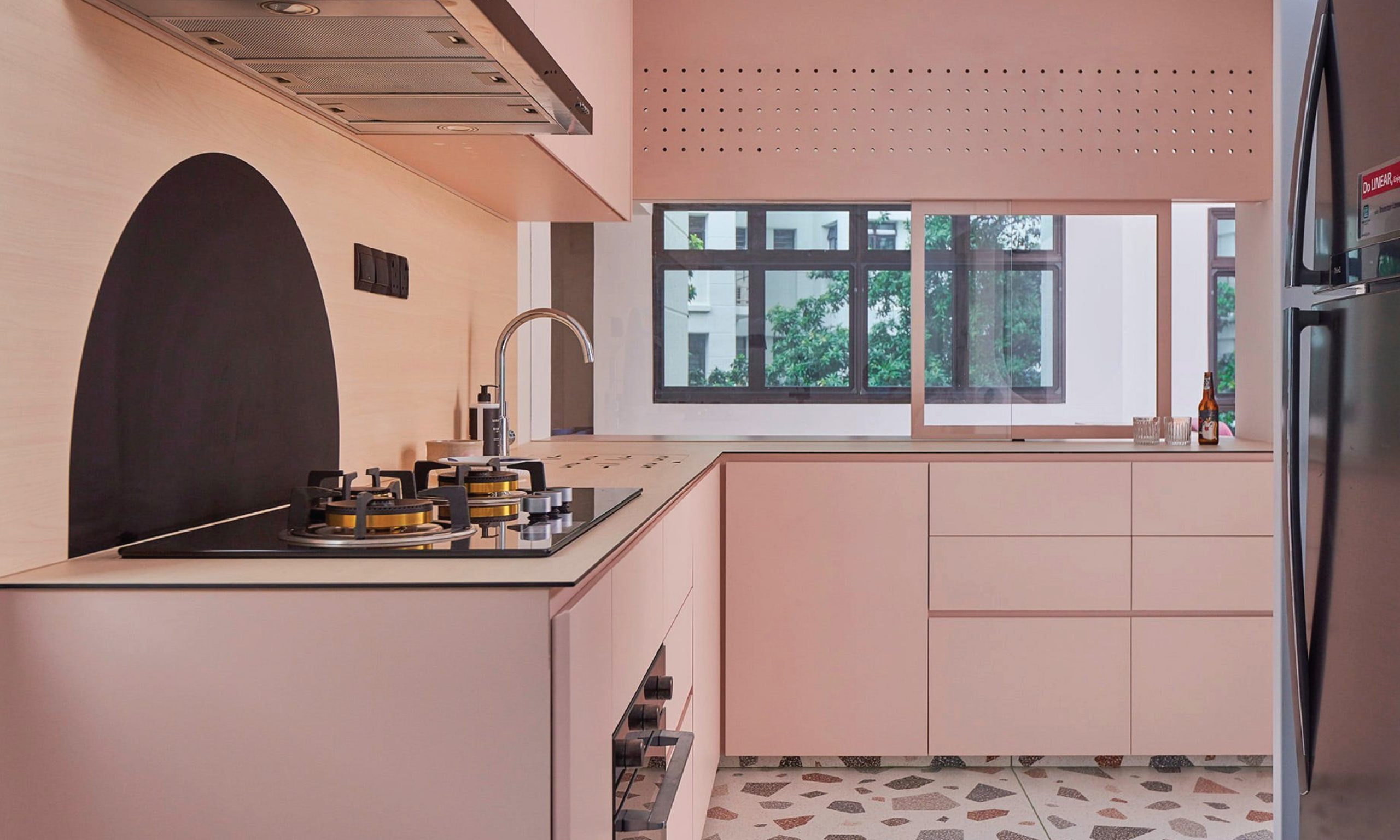 images-16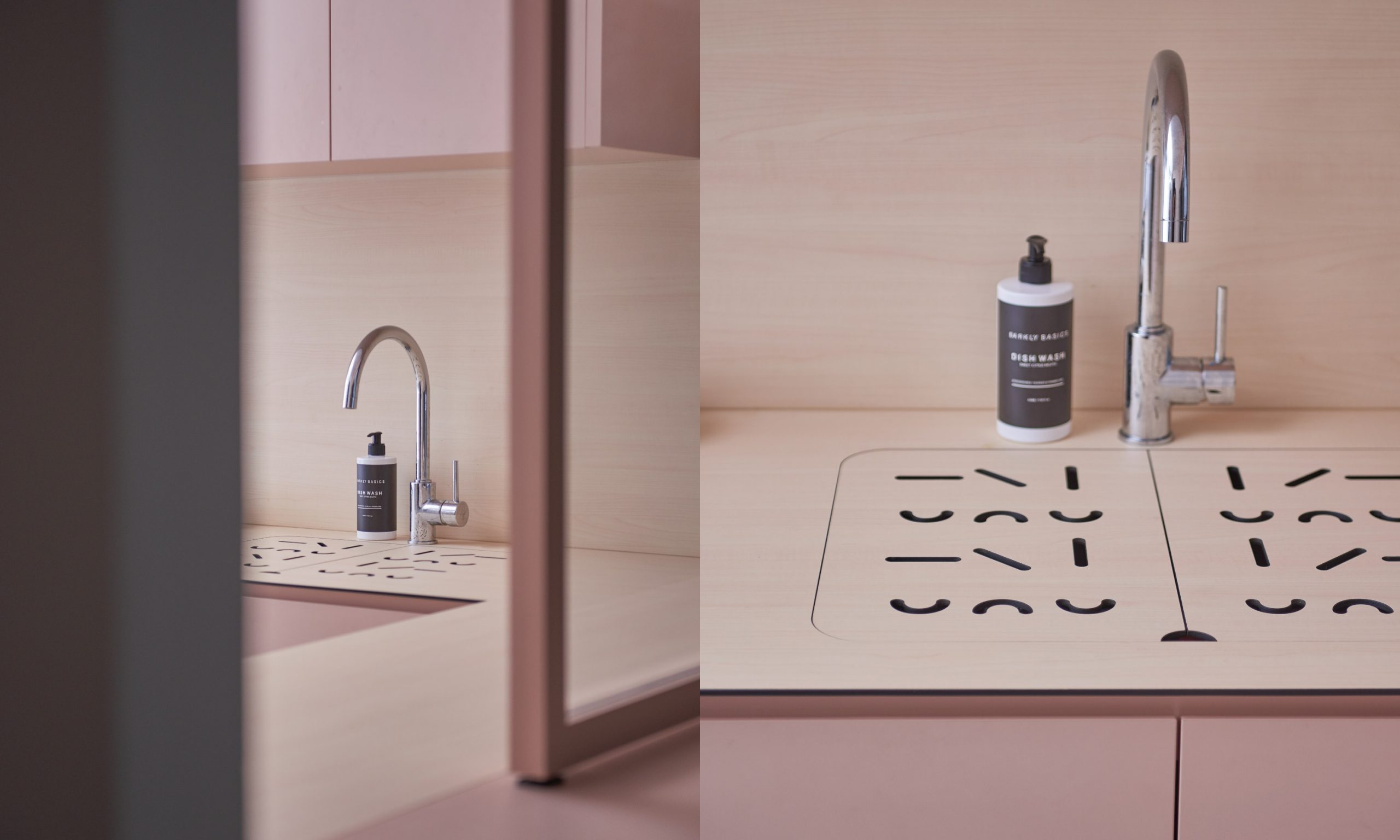 fortyfour1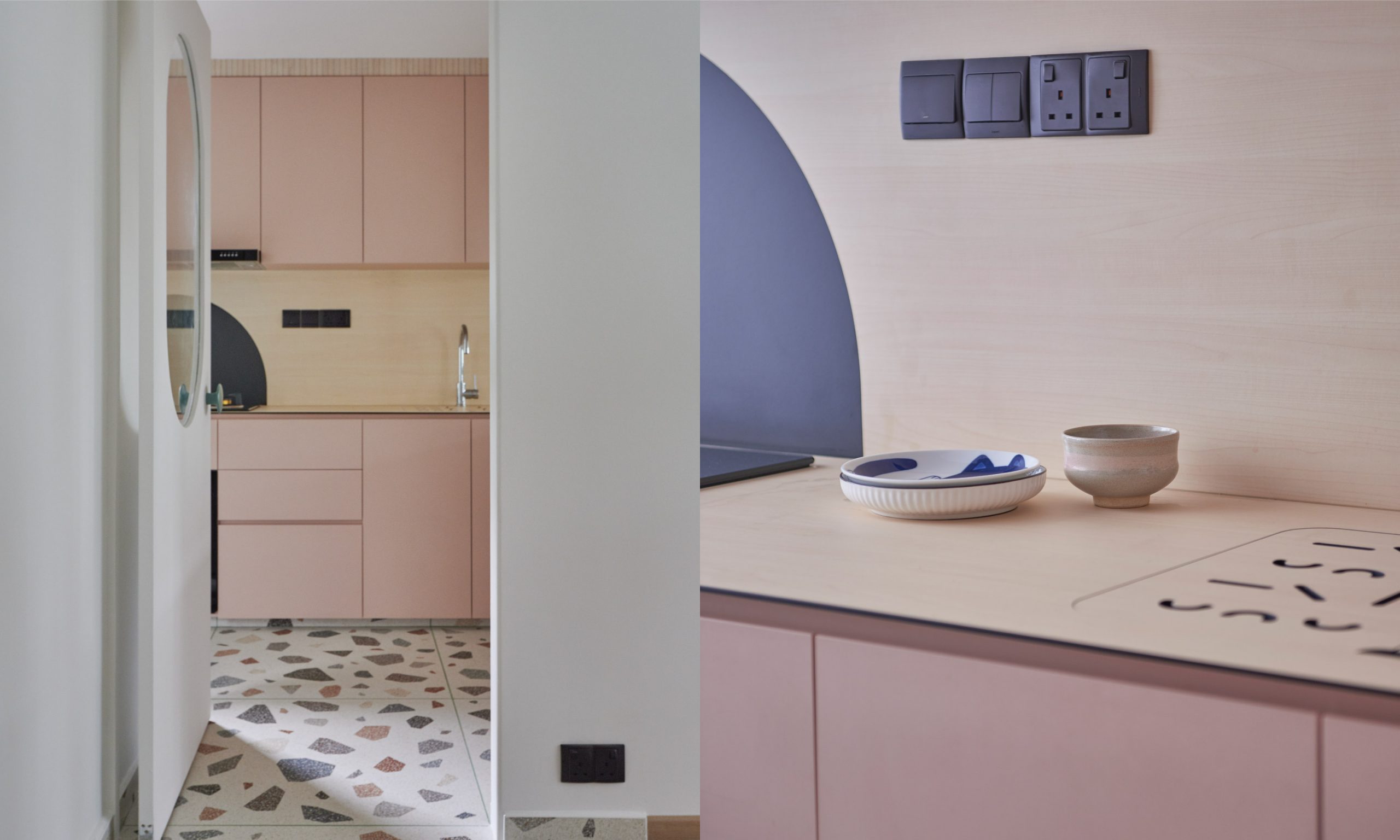 fortyfour3
Surrounded by solid pastels, the curves on both the kitchen backer and sink cover stands out beautifully in dark contrast.
Project by @studiofortyfoursingapore 
KompacTop as Kitchen Countertop + KompacPlay MixMatch as Kitchen Backer | K2.03 Treviso Maple + K1.06 Pure Black | Plains + Woods Kollection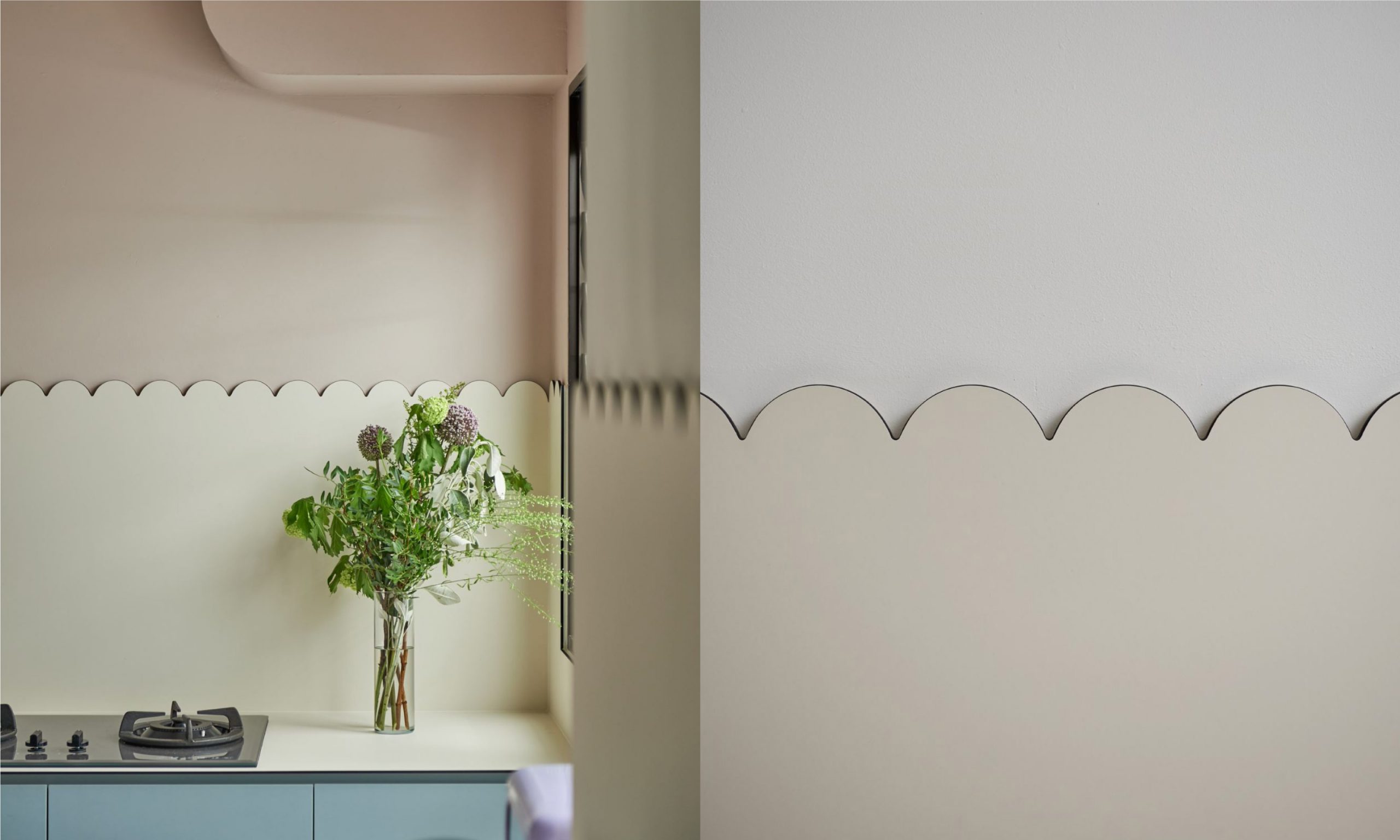 images-11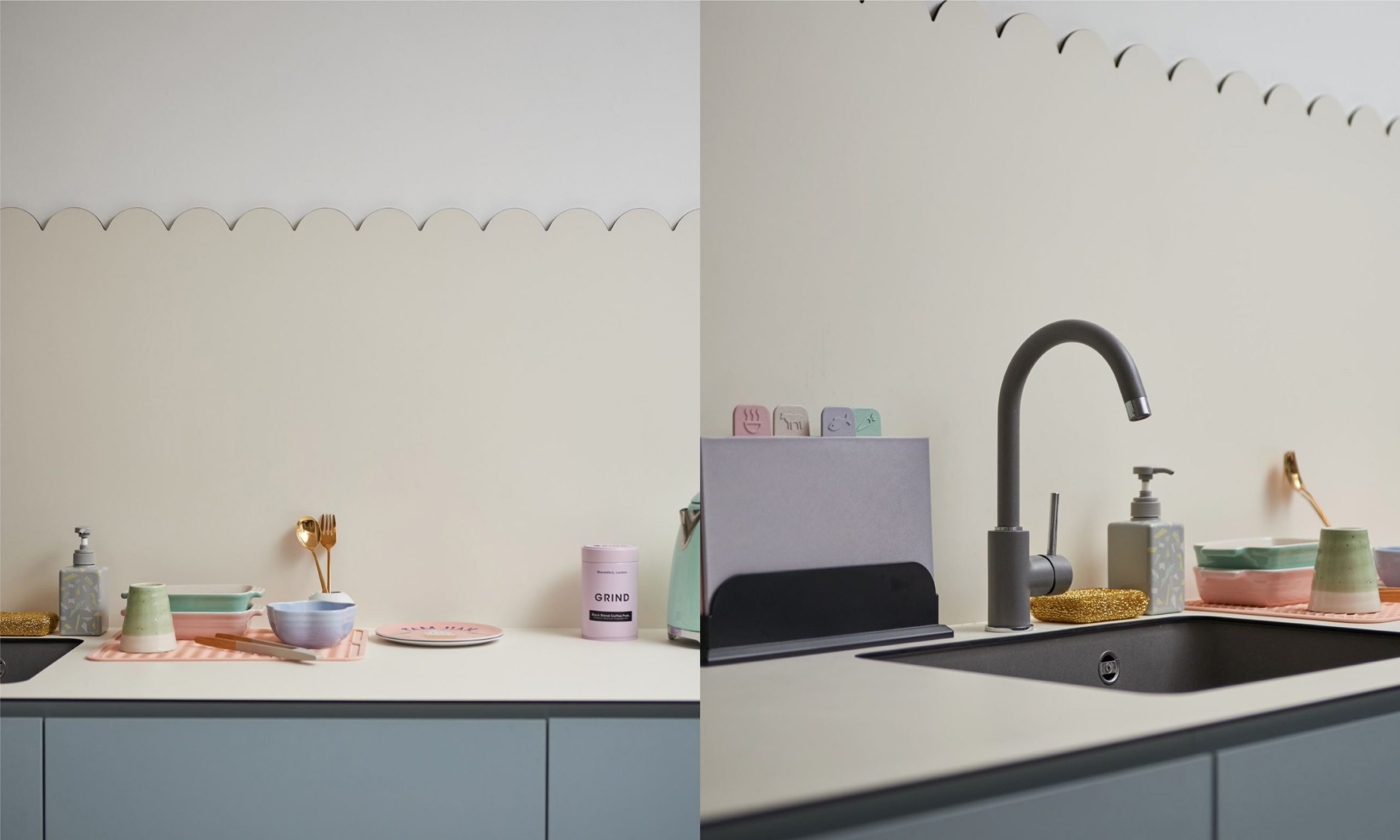 images-10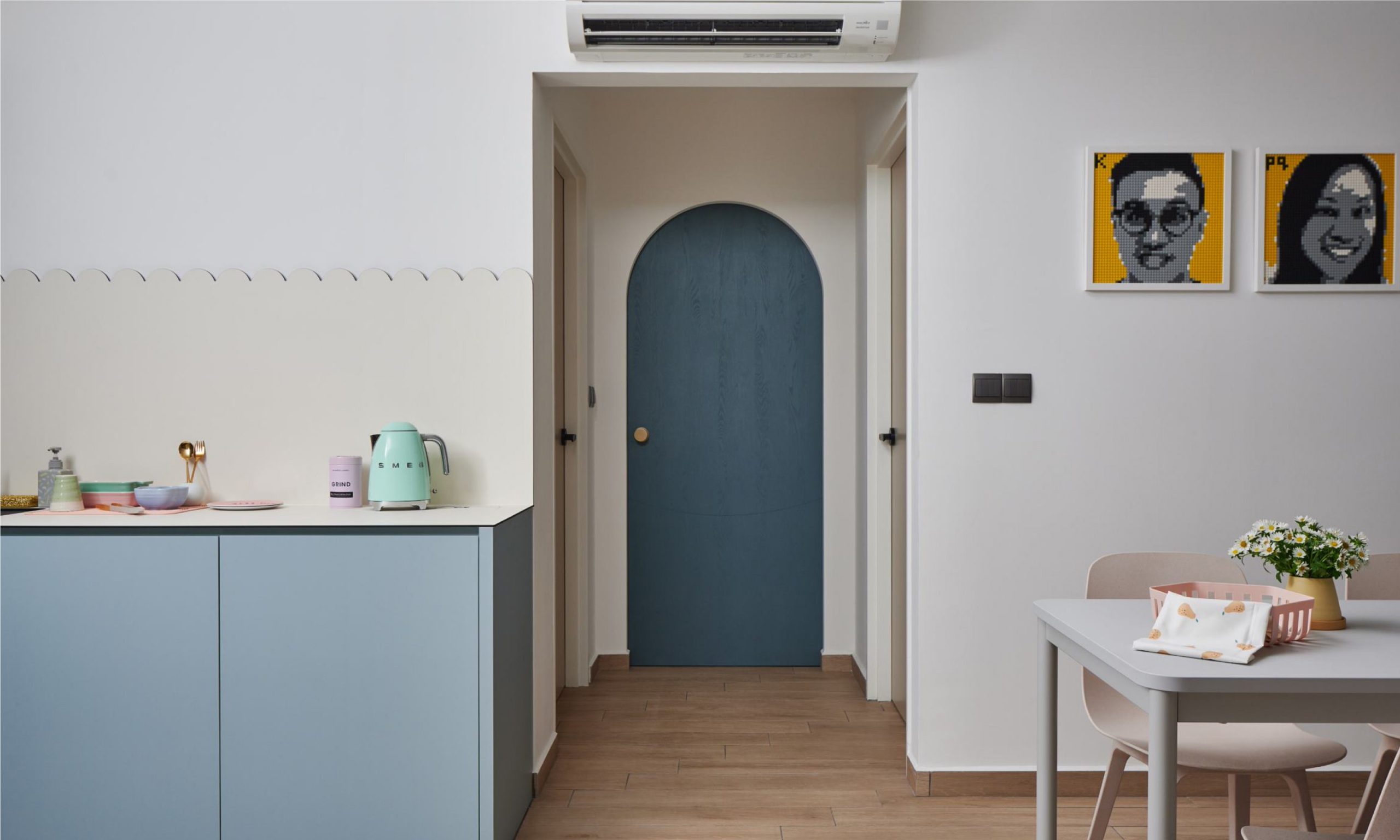 images-12
A subtle invitation, soft and soothing
Between squares and circles, how do we know which shape to bring home? Is it tradition or coincidence that our homes today share the same shapes and layout as the space we grew up in as kids?
While there's no specific rule that determines how and when we can implement them into our space, curves are one of the natural ways that adds instant softness and elegance to change up a room's visual appeal. Big or small, they create a certain flow that effortlessly draw us in.
Nothing smooths out the strictness of straight lines better than curved frames and round outlines.
Project by @studiofortyfoursingapore 
KompacTop as Vanity Top | K2.12 Bussero Ash | Woods | Ker Finish
Think of all the interiors you have seen and loved. When we strip all their colours away, what else do they have in common?
From tiles to kitchen countertops to window as well as door frames, there are countless ways to break through the monotony of linear spaces and bring the feminine touch of curves home.
Where furniture offers options in spherical tables, ottomans, and beanbags, we look beyond palettes and patterns to create the vibe that we want and need.
Between its curved outline and its simple palette, this table space looks like the perfect venue to get things done.
banchetto | BCT402 | K1.01 Pure White | 4-seater
Adding cosiness to comfort
While straight lines are generally applied to promote organisation and the impression of a larger space, curves offer a distinct softness that contrasts well with the angular lines that shapes every room.
Before the rest of the décor comes in, take a good look around to see where flowing lines can be introduced. If privacy is not an issue, why not consider curved entryways instead of doors to connect one room with another?  
Instead of having doors, the gentle archway matches well with its soft palette to create a kitchen space that is free-flowing and equally functional.
Project by @studiofortyfoursingapore
KompacTop as Kitchen Countertop and Backer | K1.02 Naples Cream | Plains Kollection
If hacking walls is not an option, curves also work great as a visual enhancer in door frames.
Project by @lemonfridgestudio
KompacTop as Kitchen Island and Countertop | K2.06 Trieste Eucalipto | Woods Kollection
Serving more than just a decorative design
With a signature thickness of 6mm, KompacPanels offer supreme strength and durability as a practical workspace without the excess bulk. From countertops in kitchens to vanity tops in bathrooms to custom dining tables, its textured surfaces in 32 unique colours are guaranteed to look seamlessly sleek in any form or shape.
Check out some of these curvy possibilities that are designed to serve both function and design.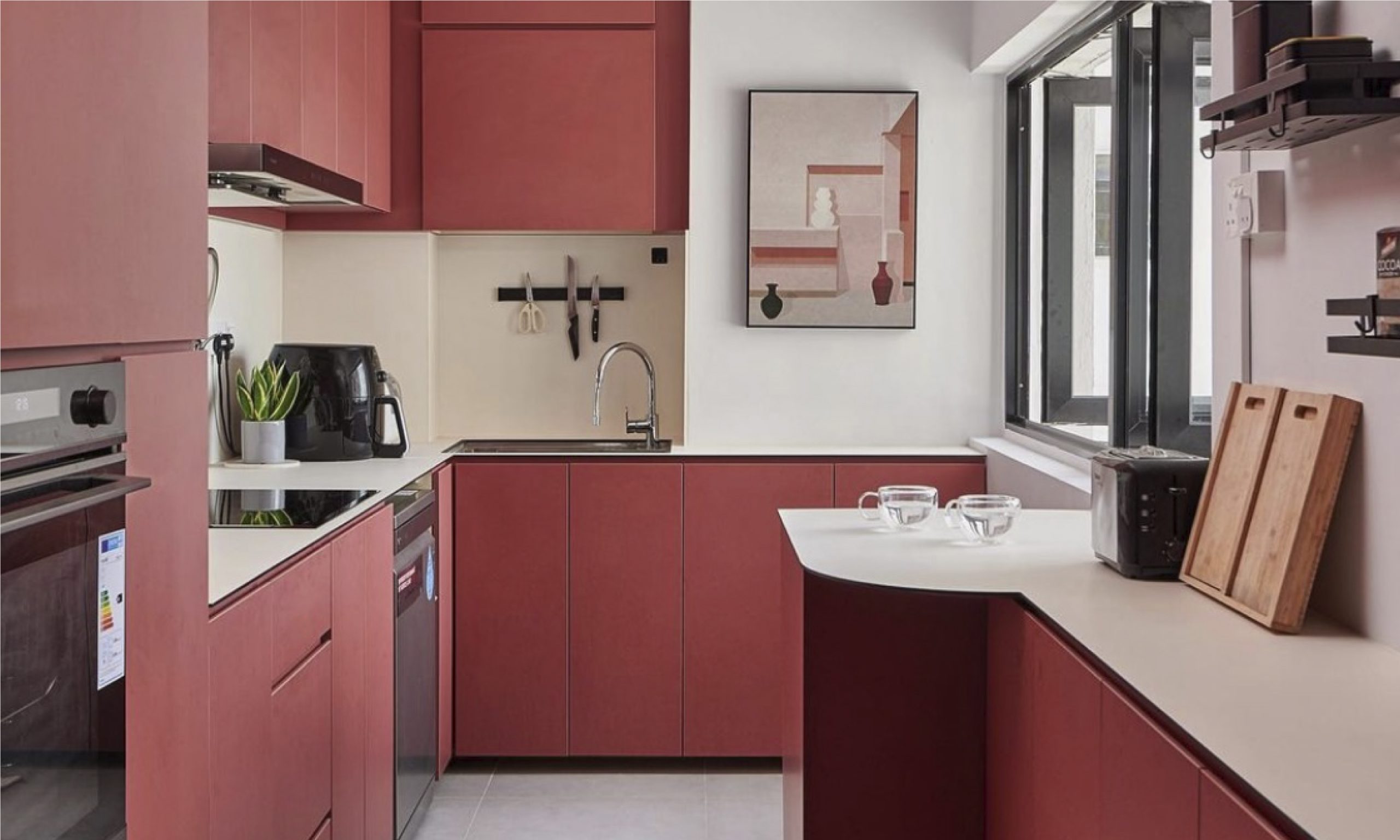 5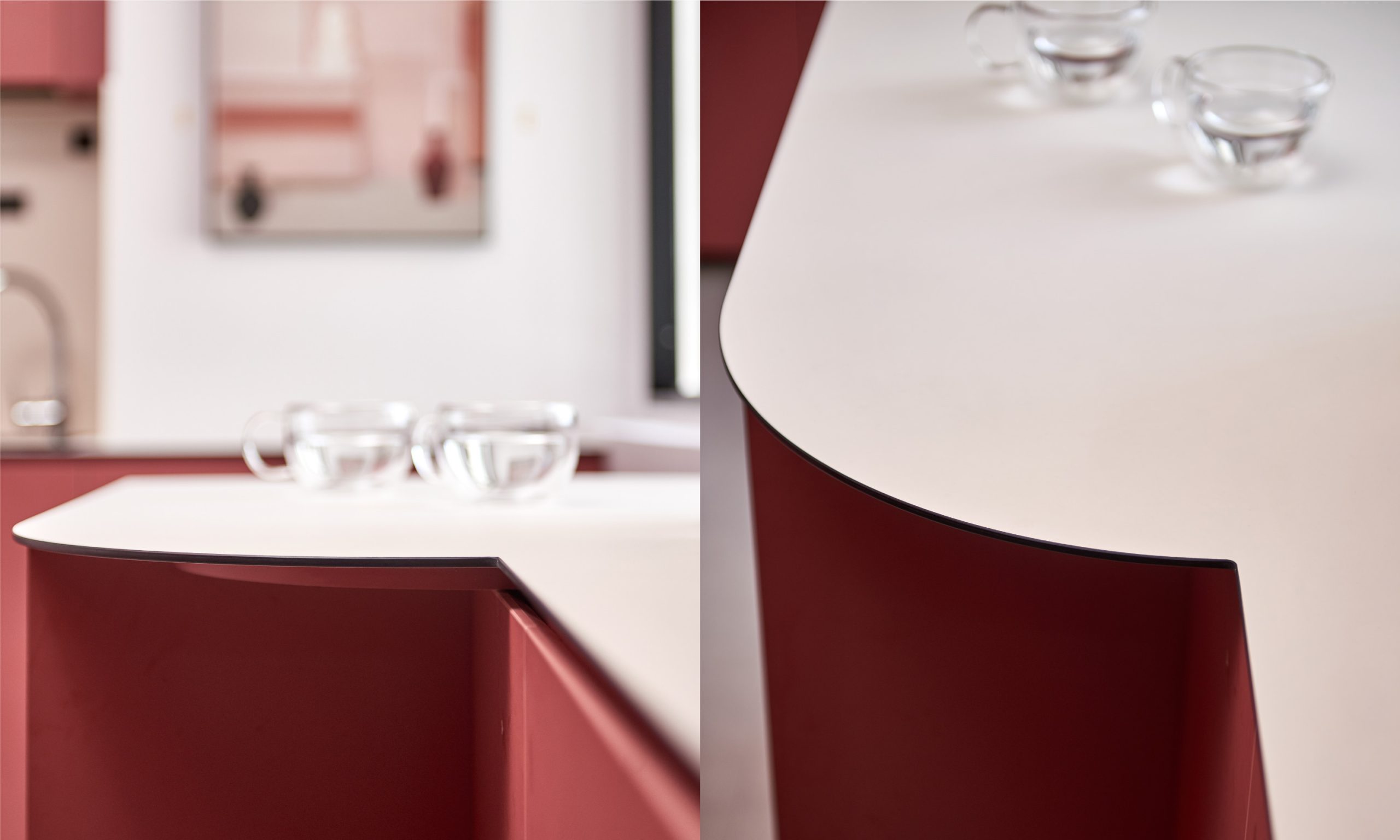 images-13
Ever considered round countertops so we don't accidentally knock ourselves into pointy corners anymore?
Project by @eightytwo.sg
KompacTop and KompacWall as Kitchen Countertop and Backer | K1.01 Pure White | Plains Kollection
What about round cabinets instead to change up the kitchen scene? We especially love the round bulb that sits in between – a practical and lovable arrangement that we can use ourselves appreciating for many years to come.
Project by @shed.studio
KompacTop as Kitchen Countertop | K1.02 Naples Cream | Plains Kollection
Table matters: Serving inspiration on banchetto
Did you know that the shape of the dining table actually affects the mood of your dining space?

Exclusively co-designed with Greater Than Dsgn, our banchetto collection combines the sleek surfaces of KompacPanels on a slender metal leg frame to offer 8 table sizes that minimally seat 4 to 6-seaters, with room for more in case of unexpected guests.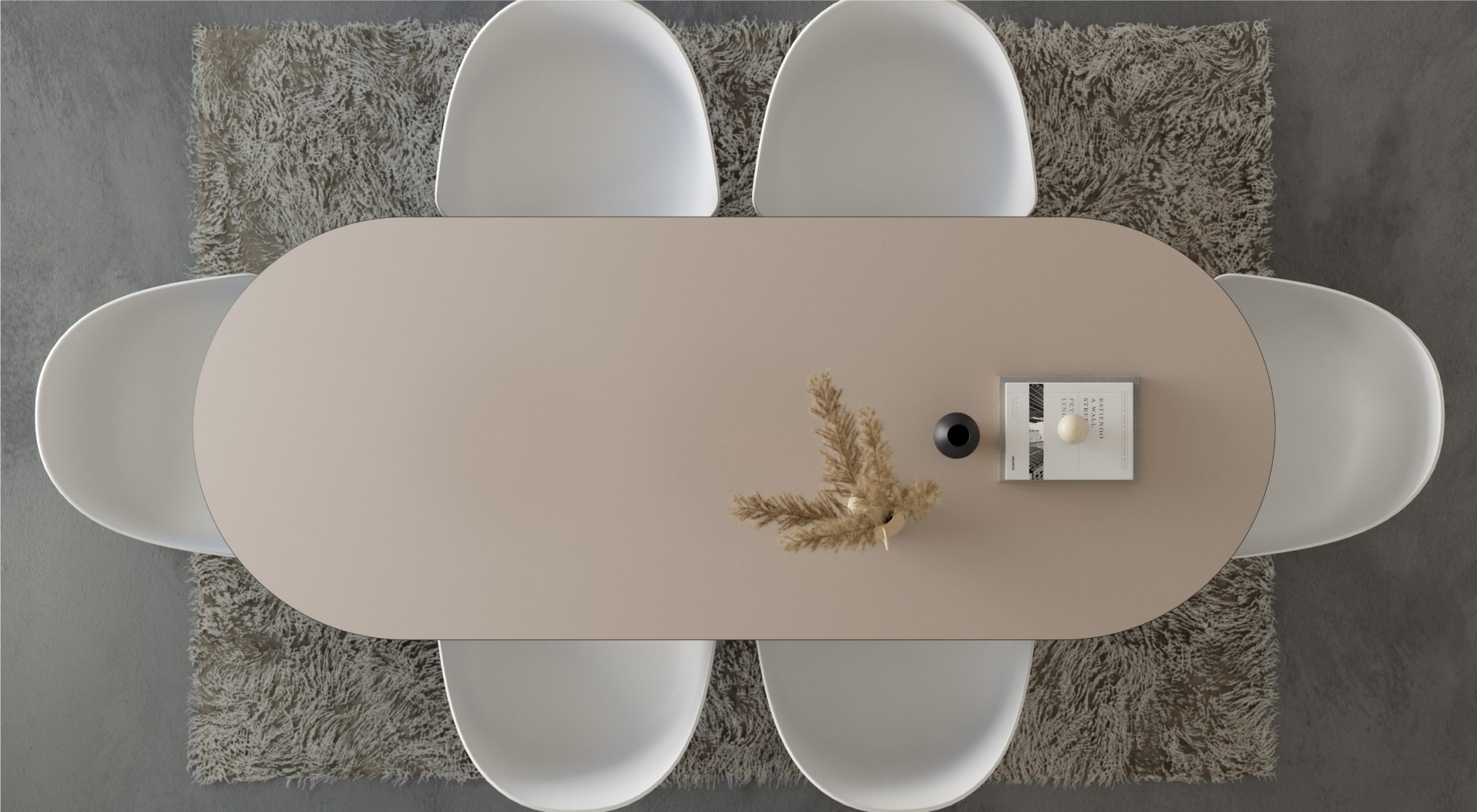 Table-render-7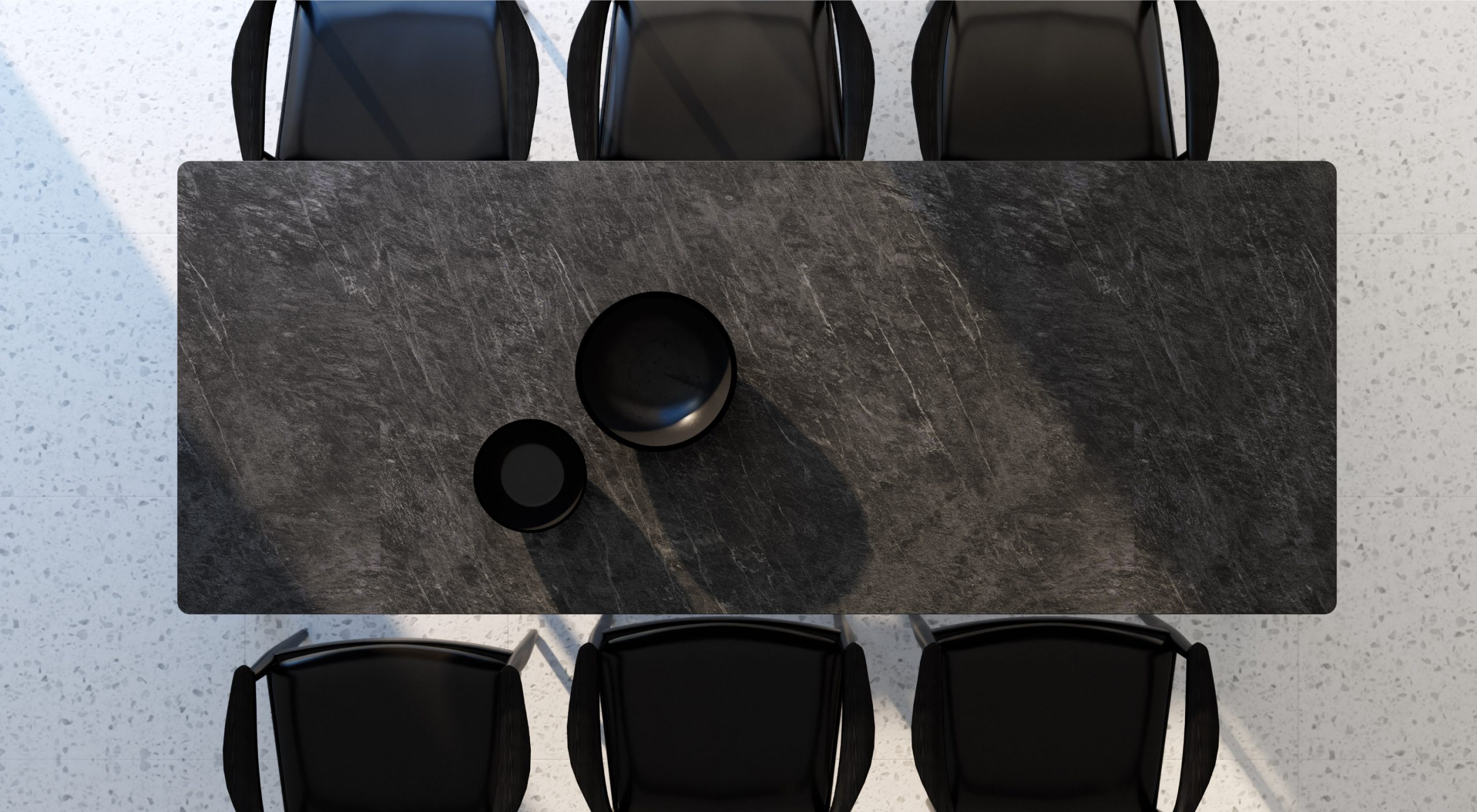 Table-render-6
Available in two distinct shapes – Rettangolo and Circolare, banchetto is where inspirations gather. Learn more about this collection here.
Ask any professional designer and they will tell you: Which table shape fits best in your home depends on your space available in order to allocate enough space to sit or move around comfortably.
As one of the largest surface areas to take up your interior space, they indirectly tell people a little bit about us, or at the very least, a little bit about our lifestyle: Are you the type to spend long hours at work or with friends over homecooked dinners?
Just between us, we find round tables a better venue for discussions and group gatherings.
After all, there's a reason why hugs feel better than a handshake when it comes to greeting someone.
It's the way they close the distance between people when our arms bend around another, just like a curve. More than just a design element that is easy on the eyes, they are a symbol of flexibility that makes every day common spaces look distinctively different.
Follow our brand journey on Facebook and Instagram! For interior ideas and inspiration, look us up on TikTok, Pinterest and Youtube. Feel free to contact us at 6842-0335 or write-in to [email protected] for further assistance from our friendly representatives!
By kompacplussg
January 6, 2022
Subscribe to The K List today
Drop us your email in the space below, and we'll keep you informed about our adventures
and new discoveries!